20.00
20.00
20.00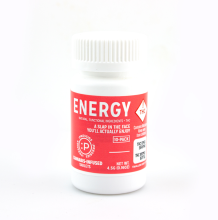 O.Pen Pressies 10-pk | Energy 100mg Rec
Pick-up Location
Note:
Price may vary at different stores
Description
O.Pen Pressies 10-pk Energy 100mg. A wake up call in the face you'll actually enjoy. A spirited blend of caffeine, ginseng & Vitamin-B mix + THC (cannabis oil) that combines to help you kick the ass that needs to be kicked. Pressies are a series of wellness supplements that contain effective, targeted nutraceuticals plus a healthy dose of THC to help you do the things you gotta do. On your terms. INGREDIENTS: Each tablet contains 10mg THC, 50mg energy blend, 100mg ginseng, 90mg B-Vitamin mix. DIETARY RESTRICTIONS: Gluten free, vegan. No major allergens. STRAIN TYPE: Sativa. DOSAGE: 100mg THC total. 10 tablets x 10mg THC each.
cNaXNw8gdN
Julie M
O.Pen Pressies 10-pk | Energy 100mg Rec
Comparable to Stratos. Pronounced sativa. But I still enjoy 1906 the best. But give em a try.
Similar Products