1
1
10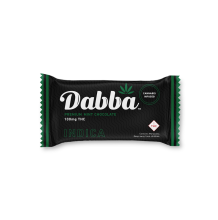 Dabba Chocolate | Indica 100mg Rec
Pick-up Location
Note:
Price may vary at different stores
Description
Premium mint chocolate dabba bar for medical use from Cheeba Chews. Good for A muscle relaxant and works well as a general analgesic, also helping those who suffer from sleep deprivation. Comes in easy to use blisters with 10 separate pieces.. DIETARY RESTRICTIONS: Gluten & peanut free; low calorie, low sugar. STRAIN TYPE: Indica. DOSAGE: 100mg THC total. 10 pieces x 10mg THC total.
2yjajoGire
Characteristics
Manufacturer
Cheeba Chews
BGo
Dabba Chocolate | Indica 100mg Rec
If i'm not mistaken dabba is cheeba chews creation. That makes it only better. indica\sativa marking is appreciated
Senior
Dabba Chocolate | Indica 100mg Rec
Tried and tested but it's just time to try something new. This works perfectly and I'd highly recommend.
Similar Products