1
1
10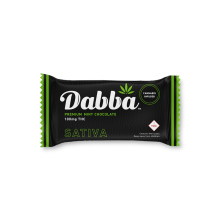 Dabba Chocolate | Sativa 100mg Rec
Pick-up Location
Note:
Price may vary at different stores
Description
Dabba Chocolate Sativa 100mg produces a euphoric high, more energetic than sedative, lifting the consumer's mood and therapeutically relieving stress. Comes in easy to use blisters with 10 separate pieces. DIETARY RESTRICTIONS: Gluten & peanut free; low calorie, low sugar. STRAIN TYPE: Sativa. DOSAGE: 100mg THC total. 10 pieces x 10mg THC total.
MTpnGbPYf7
Characteristics
Manufacturer
Cheeba Chews
TheMan
Dabba Chocolate | Sativa 100mg Rec
Dabba mint chocolates are properly dosed for one time use and taste great!
Similar Products