1
USD
10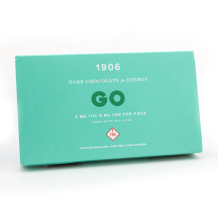 1906 Go | 1:1 Sativa 6-Pack 30mg Rec
Pick-up Location
Note:
Price may vary by store
Description
1906 Go Chocolates. Go uses an optimal blend of plant medicines, caffeine, and cannabis to create an all-natural performance enhancer for brain and body. Go works by increasing blood flow to the brain and body in order to boost mental and physical energy and stamina. Most energy formulations have a steep crash that is not just unpleasant but ultimately counterproductive. 1906 Go is built on two of the safest, most effective plant medicines in human history: caffeine and L-theanine which is derived from green tea. By combining them, we mitigate the jitters and create a clean burning, stable energy surge. We then add Alpinia galanga, used for millennia to provide effective stimulation with no crash, and theobromine to increase blood flow to the cardiovascular and nervous systems. Go is a great alternative to chemical-filled energy drinks, cheap sugar highs, and caffeine jitters. INGREDIENTS: dark chocolate [cocoa liquor, sugar, cocoa butter, soy lecithin (emulsifier), natural vanilla extract], coffee beans, alpinia galanga extract, natural green tea extract, theobromine, caffeine, sunflower oil, cannabis extract, natural flavors. Serv. size: 1 piece (9g), amount per serving: calories 45, fat cal. 30, total fat 3.5g (5% dv), sat. fat 2g (10% dv), trans fat 0g, cholest. 0mg (0% dv), sodiumtotal carb. 3g (1% dv), fiber 1g (4% dv), sugars 2g, protein 1g, vitamin a (0% dv), vitamin c (0% dv), calcium (0% dv), iron (2% dv). percent daily values (dv) are based on a 2,000 calorie diet. Manufactured in a facility that processes: milk, soy, tree nuts and peanuts. STRAIN TYPE: Sativa. DOSAGE: 30mg THC, 30mg CBD total. 6 gems x 5mg THC and 5mg CBD each.
TsH3oNQiEg
Sam2
1906 Go | 1:1 Sativa 6-Pack 30mg Rec
Kicks in faster than most chocolates I tried. 1:1 is just what I need. Prolonged energizing buzz .
Dawson
1906 Go | 1:1 Sativa 6-Pack 30mg Rec
Not bad but Drops are definitely better
Similar Products