1
1
10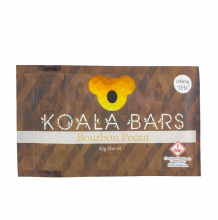 Koala Bar | Bourbon Pecan 100mg Rec
Pick-up Location
Note:
Price may vary at different stores
Description
Koala's warm and welcoming Bourbon Pecan bar is an indulgent treat. It combines smooth semi-sweet chocolate with bourbon candied pecans for a luxurious distillate-infused experience that's simple and satisfying. Koala Bars are 100% raw distillate-infused chocolates in a range of flavors to satisfy every craving. When your cannabis sweet tooth kicks in, chill out with our consistently dosed high-quality and hand-crafted chocolates. INGREDIENTS: Dark Chocolate, Bourbon Flavoring, Candied Bourbon Pecans (Internal + Back). STRAIN TYPE: Hybrid. DOSAGE: 100mg THC total. 10 pieces x 10mg THC each.
jonaEcESq3
Characteristics
Manufacturer
Koala Edibles
Lola
Koala Bar | Bourbon Pecan 100mg Rec
Exquisite chocolates. I don't mind saying that they are a work of art and I'd eat them happily with no thc in them. Koala should think on that.
Similar Products