20.00
20.00
20.00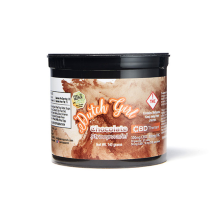 CannaPunch Dutch Girl | Stroopwafel Chocolate 3:1 100mg Rec
Pick-up Location
Note:
Price may vary at different stores
Description
CannaPunch Dutch Girl Chocolate Stroopwafels 3:1 100mg. Dutch Girl's new gourmet Stroopwafels are crafted from only the finest ingredients available and feature a luscious dark chocolate cream interior that's sure to satisfy your sweet tooth. Engineered with a medical grade 3:1 ratio of CBD to THC, each individual package contains a total of 400mg of purified cannabinoids that ensure a relaxing and satisfying experience. Powered by our proprietary NXT infusion system, Dutch Girl Stroopwafels are guaranteed to work faster and last longer than anything else available. STRAIN TYPE: Hybrid. High CBD. DOSAGE: 300mg CBD and 100mg THC total. 10 cookies x 30mg CBD and 10mg THC each.
9Rjito9r2r
Jeanine
CannaPunch Dutch Girl | Stroopwafel Chocolate 3:1 100mg Rec
Yummy. Cannapunch delivers again. High dose of both cbd and thc. Half a piece works for hours.
Similar Products