1
1
10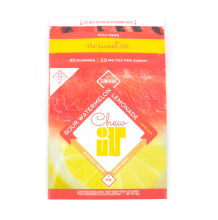 Canyon Cultivation Chew it | Sour Watermelon Lemonade 100mg Rec
Pick-up Location
Note:
Price may vary at different stores
Description
Canyon Cultivation Chew It Sour Watermelon Lemonade 100mg. Summertime in a chewy little bite that does you right. This is the summery splash of watermelon and lemonade that will have you remembering fond days and creating new amazing memories. Chew on! Perhaps the only drawback to most gummies is that you only get to eat one or so. That's why CC created these lower dosage yummies. Every package is child-proof and resealable. As always remember to pace yourself with these tasty buzzy treats.
INGREDIENTS: Organic Sugar, Glucose Syrup, Gelatin, Natural Spring Water, Natural Flavors, Citric Acid, Cannabis Essential Oil (C02), Less than 2%: Potassium Sorbate (to prevent spoilage), Food Coloring, Mineral Oil.
NUTRITION FACTS per serving: Calories 2.75g, Sodium <1g, Total Carbohydrates <1g, Sugars <1g, Protein <1g.
DIETARY RESTRICTIONS: Gluten free, non-GMO, all natural flavors.
STRAIN TYPE: Indica.
DOSAGE: 100mg THC total. 40 gummies x 2.5mg THC each.
LuhQme7Pwh
Characteristics
Manufacturer
Canyon Cultivation
Characteristics
Manufacturer
Canyon Cultivation
This product is not rated yet. Be the first to review it.