1
1
10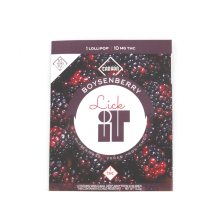 Canyon Cultivation Lick it | Boysenberry 10mg Rec
Pick-up Location
Note:
Price may vary at different stores
Description
Canyon Cultivation Lick It Boysenberry 10mg. After your very first lick, you will discover that Canyon Lick ITs are the the ultimate in adult candy enjoyment. Especially if you love Boysenberry. And especially if you love the buzz of a well-crafted edible. Canyon Cultivation Lick It is no regular lollipop. Not by a long shot. This is the perfect combination of adult fun and great tasting flavors. Each pop is carefully crafted with 10mg of the finest THC. We then delve into a dizzying variety of unique flavors - bursting with sour, sweet and Mmm Mmm. What's more, our flavors are so delicious that you'll barely taste the medicine side. Each is fast-acting, potent and sold in a child-proof and resealable package. INGREDIENTS: Organic cane sugar, organic tapioca syrup, natural flavor, cannabis essential oil (co2), food coloring. NUTRITION FACTS per serving: Calories 52, Fat Cal 0, Total Carbohydrates 12.9, Sugars 12.9. DIETARY RESTRICTIONS: Gluten free, vegan, non-GMO, all natural flavors. STRAIN TYPE: Indica. DOSAGE: 1 lollipop x 10mg THC total.
zwJCFvE8x9
Characteristics
Manufacturer
Canyon Cultivation
Characteristics
Manufacturer
Canyon Cultivation
Jackie O
Canyon Cultivation Lick it | Boysenberry 10mg Rec
Suckers with THC - the future is here! :) Very discreet stuff. Who's gonna think that you are getting high when you are licking a lollipop?
Taylor
Canyon Cultivation Lick it | Boysenberry 10mg Rec
Weird taste. Great effects
Similar Products