5.00
5.00
5.00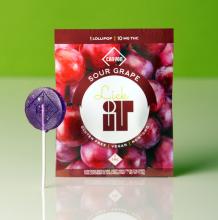 Canyon Cultivation Lick it | Sour Grape 10mg Rec
Pick-up Location
Note:
Price may vary at different stores
Description
It's the pucker sucker. And a lot more. Sour Grape is one of our most popular flavors. The perfect combination of THC and grapey-grape flavor makes for the perfect dinner mint or morning eye-opener. Canyon Cultivation Lick It is no regular lollipop. Not by a long shot. This is the perfect combination of adult fun and great tasting flavors. Each pop is carefully crafted with 10mg of the finest THC. We then delve into a dizzying variety of unique flavors - bursting with sour, sweet and Mmm Mmm. What's more, our flavors are so delicious that you'll barely taste the medicine side. Each is fast-acting, potent and sold in a child-proof and resealable package.
HkqaQccewv
Characteristics
Manufacturer
Canyon Cultivation
Characteristics
Manufacturer
Canyon Cultivation
Kevin
Canyon Cultivation Lick it | Sour Grape 10mg Rec
My favorite suckers from Canyon Cultivations. They are damn fine. Gives you a kick! Discreet AF. Perfecto!
Similar Products