20.00
20.00
20.00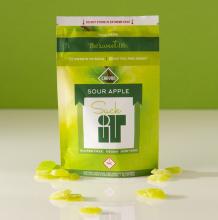 Canyon Cultivation Suck it | Sour Apple 100mg Rec
Pick-up Location
Note:
Price may vary at different stores
Description
William Tell shot a sour apple off of his son's head with a bow and arrow. Now, we're not telling you to do that, even though Canyon SuckIts can be just as thrilling, assuming your the bow and arrow guy. A quick pinch of the child-proof top of one of our SuckIt varieties, and you'll soon understand why we put so much into each candy. From the wildly imaginative flavors, to the bright colors to the wonderful effects - (take your time – remember) each of our flavors is an experience waiting to happen. We advise starting with one, then wait. Give it time. Then, as you feel the effect, you can begin to manage your experience. INGREDIENTS: Organic cane sugar, organic tapioca syrup, natural flavor, citric acid, ascorbic acid, cannabis essential oil (co2), food coloring. NUTRITION FACTS per serving: Calories 6, Fat Cal 0, Total Carbohydrates .95g, Sugars .95g DIETARY RESTRICTIONS: Gluten free, vegan, non-GMO, all natural flavors. STRAIN TYPE: Hybrid. DOSAGE: 100mg THC total. 10 pieces x 10mg THC each.
QJ9uvNAS8Q
Characteristics
Manufacturer
Canyon Cultivation
Characteristics
Manufacturer
Canyon Cultivation
JT Miln
Canyon Cultivation Suck it | Sour Apple 100mg Rec
Wonderful edibles from Canyon cultivation that offer a nice engulfing buzz.
Similar Products