14.00
14.00
14.00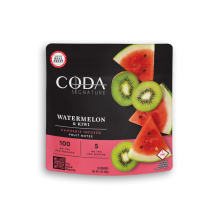 Coda Signature Fruit Notes | Kiwi & Watermelon 100mg Rec
Pick-up Location
Note:
Price may vary at different stores
Description
Coda Signature Fruit Notes Kiwi & Watermelon 100mg. The taste of summer drips from the combination of sweet watermelon and tart kiwi. Refreshing any time of the year, this delicious pillow of flavor has everything except the seeds. Experience rhapsodies of flavor with our all-natural French Fruit Notes. Coda's soft pillowy treats are made with only the finest all natural fruits. Each intensely flavored square is lightly dusted with a unique infused sugar using whole spices and aromatics. FLAVOR: Sweet, juicy watermelon and slightly tart kiwi. DIETARY RESTRICTIONS: All natural, gluten free, vegan. STRAIN TYPE: Hybrid. DOSAGE: 100mg THC total. 20 pieces x 5mg THC each.
xqjQFfHyas
Characteristics
Manufacturer
Coda Signature
Characteristics
Manufacturer
Coda Signature
This product is not rated yet. Be the first to review it.
Similar Products