27.00
27.00
27.00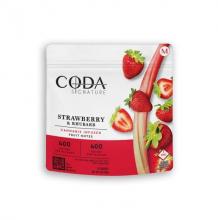 Coda Signature Fruit Notes | Strawberry & Rhubarb 1:1 400mg Med
Pick-up Location
Note:
Price may vary at different stores
Description
Coda Signature Fruit Notes Strawberry & Rhubarb 1:1 400mg. Sweet strawberry pairs effortlessly with tart rhubarb. Each piece is infused with a beautiful balance of 1:1 CBD and THC. Lightly dusted with vanilla bean sugar, this perfectly bright Fruit Note gently hints at the bounty of the summer season. Experience rhapsodies of flavor with our all-natural French Fruit Notes. Coda's soft pillowy treats are made with only the finest all natural fruits. Each intensely flavored square is lightly dusted with a unique infused sugar using whole spices and aromatics.
FLAVOR: Summer-ripened strawberry and tart rhubarb, dusted with vanilla bean-infused sugar.
DIETARY RESTRICTIONS: All natural, gluten free, vegan.
STRAIN TYPE: Hybrid. 1:1 CBD:THC.
DOSAGE: 400mg CBD and 400mg THC total. 20 pieces x 20mg CBD and 20mg THC each.
hhC46CNjPX
Characteristics
Manufacturer
Coda Signature
Characteristics
Manufacturer
Coda Signature
This product is not rated yet. Be the first to review it.
Similar Products