50.00
50.00
50.00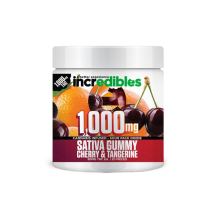 Incredibles Gummies | Sativa Cherry Tangerine 1000mg Med
Pick-up Location
Note:
Price may vary at different stores
Description
Incredibles' high milligram gummies are made with all-natural fruit juice and sustainable oils. Available in indica or sativa, each pack includes cherry and tangerine flavors that will satisfy your sweet tooth. Of course, they're always gluten and GMO free. Triple-lab testing ensures consistent, reliable relief and the highest standards in product safety and purity.
DOSAGE: 1000mg THC total. 20 pieces x 50mg THC each.
uNpoJipv3J
Randy2034
Incredibles Gummies | Sativa Cherry Tangerine 1000mg Med
Perfect medicinal gummies! 1000 mg is high enough to keep me up for a week. Pain relief and functioning as well.
Similar Products