16.00
16.00
16.00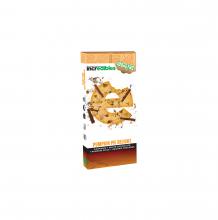 Incredibles Pumpkin Pie Delight | 100mg Rec
Pick-up Location
Note:
Price may vary at different stores
Description
Autumn is in the air when the Incredibles Pumpkin Pie Delight hits the shelves. This seasonal treat conjures falling leaves, long sleeves and the hint of holidays around the corner. We mix cool white chocolate with pumpkin spice and graham cracker for a medicated experience you'll savor. Every batch of incredibles is triple-tested for dosing accuracy and quality. All incredible bars are made with sustainably-sourced oil. The bars are developed and produced in-house using a proprietary extraction method, and every batch is triple-tested for dosing accuracy and contaminants. ALLERGENS: Made in a facility that processes tree nuts, peanuts, soy, milk and wheat. DIETARY RESTRICTIONS: Gluten and GMO free. STRAIN TYPE: Hybrid. DOSAGE: 100mg THC total. 10 pieces x 10mg THC each.
zXnzyfFKj6
Mulan
Incredibles Pumpkin Pie Delight | 100mg Rec
Great for the Halloween holiday season!
Similar Products