60.00
60.00
60.00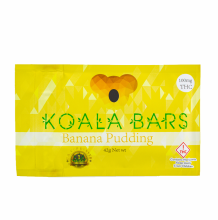 Koala Bar | Banana Pudding 1000mg Med
Pick-up Location
Note:
Price may vary at different stores
Description
This Koala's 2015 Cannabis Cup award-winning recipe includes real bananas and vanilla wafers join together in a creamy white chocolate bar that's decadent and delicious. It's a cannabis-infused spin on the classic southern dessert. Koala Bars are 100% raw distillate-infused chocolates in a range of flavors to satisfy every craving. When your cannabis sweet tooth kicks in, chill out with our consistently dosed high-quality and hand-crafted chocolates. INGREDIENTS: White Chocolate, Dehydrated Banana (internal), Dehydrated Banana on back + Vanilla Wafer. STRAIN TYPE: Hybrid. DOSAGE: 1000mg THC total. 10 pieces x 100mg THC each.
rfZHxfnoAw
Characteristics
Manufacturer
Koala Edibles
Characteristics
Manufacturer
Koala Edibles
This product is not rated yet. Be the first to review it.
Similar Products