16.00
16.00
16.00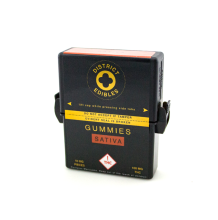 O.pen District Gummies | Strawberry Sativa 100mg Rec
Pick-up Location
Note:
Price may vary at different stores
Description
O.pen District Gummies | Strawberry Sativa 100mg. With each District Edibles product, we want to help you Experience the Difference. The process starts with fully-activated, refined cannabis oil. District Edibles never uses raw oil or oil high in THCa. This ensures that your body is able to fully absorb the active cannabinoids without any cannabis taste. You will feel the difference in the quality and consistency of the products enabling you to redefine your high! Each piece is individually sealed in our child resistant packaging. Protecting your gummies from the elements until ready to enjoy. One piece at a time. NUTRITION: Per serving. Low sugar, under 3g, low fat, under 10 calories. DIETARY RESTRICTION: Fat free, gluten free, low sugar. STRAIN TYPE: Sativa. DOSAGE: 100mg THC total. 10 gummies x 10mg THC each.
WaCuHca8o6
Jonesy
O.pen District Gummies | Strawberry Sativa 100mg Rec
Just ok. Open should stick with vapes though.
Similar Products