1
USD
10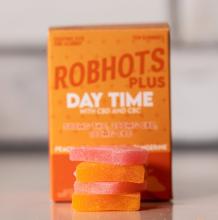 Robhots Plus Gummies | Day Time 500mg Med
Pick-up Location
Note:
Price may vary at different stores
Description
Robhots Plus Day Time gummies feature Cannabidiol (CBD) and Cannabichromene (CBC) in addition to THC with a targeted approach of keeping you alert and active during your day.
CBC is considered one of the "big six" cannabinoids prominent in medical research. CBC works with cannabinoid receptors in your body and increases levels of the body's natural endocannabinoids, like anandamide which can be a mood enhancer.
DOSAGE: 500mg THC total.
b7633LDJAS
This product is not rated yet. Be the first to review it.
Similar Products