1
1
10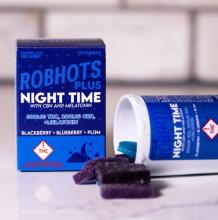 Robhots Plus Gummies | Night Time 500mg Med
Pick-up Location
Note:
Price may vary at different stores
Description
Robhots Plus Night Time gummies have Cannabinol (CBN) and Melatonin in addition to THC. These gummies are made to be taken at night, about 30 minutes before bedtime.
Studies have shown that CBN has amazing calming and relaxing properties, especially combined with THC. Add in Melatonin, which is a naturally occurring hormone, and you have a great gummy to end your day.
DOSAGE: 500mg THC total.
Dhg9romzxz
This product is not rated yet. Be the first to review it.