20.00
20.00
20.00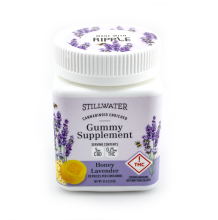 Stillwater Gummies | Honey Lavender 20:1 5mg Rec
Pick-up Location
Note:
Price may vary at different stores
Description
Stillwater Gummy Supplements offer a healthy and natural way to get your daily dose of cannabinoids. Infused with all-natural fruit juices and colors, low in sugar and fat, and Made with Ripple for a fast-acting, functional experience, our gummy supplements are the perfect complement to your exciting/exhausting lifestyle.
k3qzy6dsi4
Mary Jones
Stillwater Gummies | Honey Lavender 20:1 5mg Rec
Amazing for those who, like me, do not want to get blitzed out of their mind with THC, and just need a good night's sleep. This 20:1 ratio is ideal for me. Honey and lavender also come into play here and the combined effects are amazing.
Similar Products