1
1
10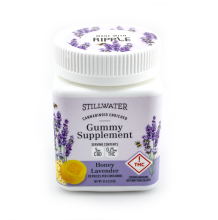 Stillwater Gummies | Honey Lavender 20:1 5mg Rec
Pick-up Location
Note:
Price may vary at different stores
Description
Classic clover honey flavor with subtle, soothing floral notes.
Stillwater's Honey Lavender 20:1 Gummies offer a healthy and natural way to get your daily dose of cannabinoids. Made with Ripple for a fast-acting, functional experience, these gummy supplements are the perfect complement to your exciting/exhausting lifestyle.
INGREDIENTS: Glucose syrup, sugar, water, fruit juice concentrates, gelatin, modified food starch Ripple (water, modified food starch, cannabinoid extracts, MCT oil), contains 2% or less of: natural flavors, malic acid, citric acid, carnauba wax, vegetable juice for color.
NUTRITION: 10 calories per gummy.
DIETARY RESTRICTIONS: Made with real fruit juice, all natural colors & flavors, gluten free, low sugar.
STRAIN TYPE: THC distillate.
DOSAGE: 100mg CBD and 5mg THC total. 20 gummies x 5mg CBD and 0.25mg THC each.
TX4k8kGXJZ
Mary Jones
Stillwater Gummies | Honey Lavender 20:1 5mg Rec
Amazing for those who, like me, do not want to get blitzed out of their mind with THC, and just need a good night's sleep. This 20:1 ratio is ideal for me. Honey and lavender also come into play here and the combined effects are amazing.