1
USD
10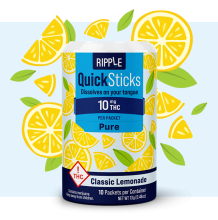 Stillwater Ripple Quick Stick | Classic Lemonade 100mg Rec
Pick-up Location
Note:
Price may vary at different stores
Description
Classic Lemonade meets Colorado cool with a burst of sweet and refreshing summertime lemonade, sure to level up any backyard BBQ.
Ripple QuickSticks introduces a brand new consumption method to the Ripple suite of products - flavored Ripple that is intended to dissolve straight on the tongue! Just as with any Ripple product, you can count on the fast-acting, reliable, and consistent dose that you are used to from Ripple. QuickSticks is a great product for discreet ease of use, you can use it right before bed or as you turn on your favorite movie. Each Stillwater QuickStick contains 10mg of water-soluble THC per perfectly precise packet.
INGREDIENTS: Ripple (sorbitol, modified food starch, MCT oil, cannabinoid extracts), natural flavors, citric.
DIETARY RESTRICTIONS: Vegan, low sugar (trace amounts); gluten and GMO free.
STRAIN TYPE: Pure THC distillate.
DOSAGE: 100mg THC total. 10 sticks x 10mg THC each.
yEJLF33F9Z
Characteristics
Dietary
Gluten free
Vegan
GMO free
Characteristics
Dietary
Gluten free
Vegan
GMO free
This product is not rated yet. Be the first to review it.
Similar Products