24.00
24.00
24.00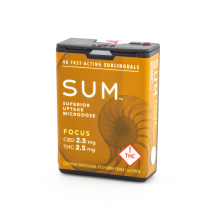 SUM Microdose Mints | Focus 1:1 100mg Rec
Pick-up Location
Note:
Price may vary at different stores
Description
A precise combination of THC and CBD in equal ratio. The synergistic effects of this formulation drives a powerful and rewarding level of attention that helps you accomplish what's needed to get done.
6F5ExPrzgm
Characteristics
Manufacturer
SUM Microdose
Lenny
SUM Microdose Mints | Focus 1:1 100mg Rec
These are superb. Microdosing has always been my thing and 10mg pieces have been troublesome. SUM was made for me.
Similar Products