36.00
36.00
36.00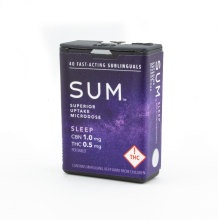 SUM Microdose Mints | Sleep 2:1 20mg Rec
Pick-up Location
Note:
Price may vary at different stores
Description
The sleep-related cannabinoid called CBN provides gentle sedation. Our cannabinoid-only formulation allows your body to fall asleep naturally, without the use of hormones like melatonin or artificial sleep aids.
bNcLhPtZfK
Characteristics
Manufacturer
SUM Microdose
Bernardo Juro
SUM Microdose Mints | Sleep 2:1 20mg Rec
Terrible, I am a light weight and bought these on the recommendation of the bud tender. First night I took one, then the next night 2. The attendant, who has a lot of experience said he maxes out on 2. I wish I went with my own instinct.
Similar Products