36.00
36.00
36.00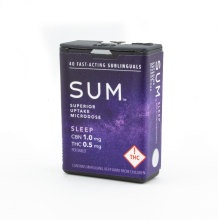 SUM Microdose Mints | Sleep 2:1 20mg Rec
Pick-up Location
Note:
Price may vary at different stores
Description
The sleep-related cannabinoid called CBN provides gentle sedation. Our cannabinoid-only formulation allows your body to fall asleep naturally, without the use of hormones like melatonin or artificial sleep aids.
3vfLoEmQNM
Characteristics
Manufacturer
SUM Microdose
This product is not rated yet. Be the first to review it.
Similar Products