20.00
20.00
20.00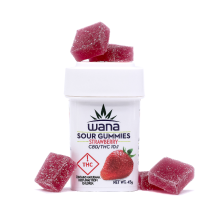 Wana CBD Sour Gummies | 10:1 Strawberry 10mg Rec
Pick-up Location
Note:
Price may vary at different stores
Description
Made with all natural flavors and colors, Wana CBD Sour Gummies 10:1 Strawberry are handcrafted and infused with tincture during the cooking process. The delicious strawberry flavor is a perfect combination of tart and sweet. The gummies are infused with CBD and THC terpene-enhanced distillate and the ratio offers a more serene experience and very little to no psychoactive effects. INGREDIENTS: Sugar, Corn Syrup, Pectin, Citric Acid, Natural Flavoring and Coloring, Sodium Citrate, CBD, THC. DIETARY RESTRICTIONS: Gluten free, vegan, no major allergens. STRAIN TYPE: 10:1 CBD:THC. Hybrid. DOSAGE: 100mg CBD and 10mg THC total. 10 gummies x 10mg CBD and 1mg THC each.
kTNdPMT9rr
HR
Wana CBD Sour Gummies | 10:1 Strawberry 10mg Rec
no wake n bake. just a tiny part of thc for the pain.
Similar Products