1
USD
10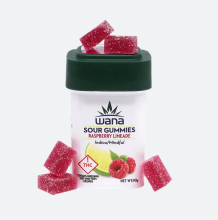 Wana Sour Gummies | Raspberry Limeade Indica Mindful 1000mg Med
Pick-up Location
Note:
Price may vary by store
Description
Sweet berry and tart citrusy flavors come together to create our uniquely refreshing Raspberry Limeade Indica/Mindful High Dose Sour Gummies. Handcrafted with all natural, vegan and gluten free ingredients, the gummies are infused with indica terpene-enhanced distillate, which will leave you calm and relaxed. INGREDIENTS: Organic Sugar, Organic Tapioca Syrup, Pectin (Pectin, Potassium Sodium Tartrate, Polyphosphate, Sucrose), Citric Acid, Natural Flavoring and Coloring, Sodium Citrate, Marijuana Concentrate, and Botanical Terpenes for flavor. DIETARY RESTRICTIONS: Gluten free, vegan, no major allergens. STRAIN TYPE: Indica. DOSAGE: 1000mg THC total. 20 gummies x 50mg THC each.
sDSbCQBZta
This product is not rated yet. Be the first to review it.
Similar Products