1
1
10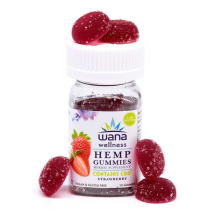 Wana Wellness CBD Hemp Gummies | Strawberry 200mg
Pick-up Location
Note:
Price may vary at different stores
Description
Handcrafted and infused with premium broad-spectrum hemp oil, Wana Wellness Strawberry Hemp Gummies are made with organic, vegan, and gluten-free ingredients as well as plant-derived flavors and colors. With 10 servings per bottle, these sweet and fruity gummies make keeping up with your on-the-go dietary needs easy and delicious. Our Hemp Gummies contain naturally occurring cannabidiol (CBD), essential terpenes, and other plant compounds that support a healthy lifestyle.
INGREDIENTS: Broad-Spectrum Hemp Oil with Naturally Occurring Cannabidiol (CBD), Organic Sugar, Organic Tapioca Syrup, Pectin (Pectin, Potassium Sodium Tartrate, Polyphosphate). Citric Acid, MCT Oil, Natural Flavoring, Sodium Citrate, and Colors Added (Vegetable Juicy, Fruit Juice).
DIETARY RESTRICTIONS: Vegan and Gluten Free.
DOSAGE: 200mg CBD per bottle. 10 gummies x 20mg CBD each.
eByRiwzHdD
This product is not rated yet. Be the first to review it.