16.00
16.00
16.00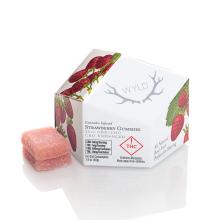 Wyld Strawberry Gummies | CBD 20:1 10mg Rec
Pick-up Location
Note:
Price may vary at different stores
Description
Strawberry Gummies are made with real fruit and enhanced with cannabis-derived CBD oil. Relaxing your body while keeping your mind sharp and alert. It is the go-to gummy if you are looking to decompress or take the edge off.
INGREDIENTS: Tapioca Syrup, Sugar, Water (H20), Strawberry Juice Concentrate, Gelatin, Natural Flavoring, Coconut Oil, Citric Acid, Cannabis Extract, Sunflower Lecithin.
PREVAILING TERPENES: Limonene, Linalool, Alpha-Pinene, Beta-Pinene.
STRAIN TYPE: 20:1 CBD:THC. Hybrid Enhanced.
DOSAGE: 200mg CBD and 10 THC total. 10 gummies x 20mg  CBD and 0.5mg THC each.
ywfAdZwreS
Wyld
Wyld Strawberry Gummies | CBD 20:1 10mg Rec
I love Wyld. Delicious and consistent. And there is always a deal!
Similar Products