1
1
10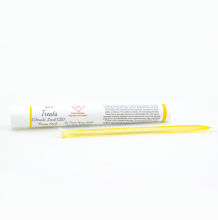 B's Treats Honey Stick CBD | Orginal 20:1 2mg Rec
Pick-up Location
Note:
Price may vary at different stores
Description
B's Treats Honey Stick CBD Original. Traditional flavored honey sticks with a cannabis-infused twist. Honey sticks are easy to take with you and are equally delicious dissolved in a mug of tea or enjoyed straight from the package. B's Treats edibles are made exclusively with Keif and alcohol extraction methods resulting in high quality, great tasting products. All products are handmade with care always taking taste and potency equally into account. STRAIN: 20:1 CBD:THC. DOSAGE: 1 stick x 2mg THC and 40mg CBD total.
3fL834NwwB
This product is not rated yet. Be the first to review it.
Similar Products