3.00
3.00
3.00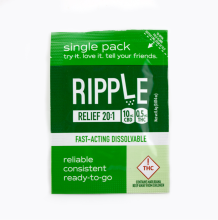 Stillwater Ripple Single Serving | 20:1 .5mg Rec
Pick-up Location
Note:
Price may vary at different stores
Description
Stillwater Ripple Single Serving 20:1. Odorless, flavorless, calorie-free powder packets that dissolve instantly into any food or beverage. Make anything an edible. With Ripple, there are no unpleasant oil slicks or unwelcome "grassy" flavors, just reliable, consistent, fast-acting effects. INGREDIENTS: sorbitol, modified food starch, MCT oil, cannabinoid extracts. DIETARY RESTRICTIONS: Vegan, Keto friendly; gluten, GMO, calorie, and sugar free. STRAIN TYPE: Purified THC in distillate form. DOSAGE: Single serve x 10mg CBD and 0.5mg THC total.
Gtitek9uXD
Joey
Stillwater Ripple Single Serving | 20:1 .5mg Rec
Basically it's a CBD product and from what I read mixing in some THC has plenty of positive effects. I do want be healthier but I do not enjoy the high. Any high. That's why I enjoy all 15:1 or 20:1 products.
Similar Products