24.00
24.00
24.00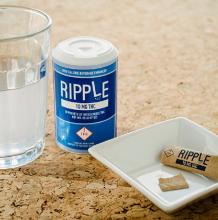 Stillwater Ripple | 100 mg Rec
Pick-up Location
Note:
Price may vary at different stores
Description
Ripple Dissolvables are single-serve powder packets filled with perfectly precise portions of our odorless, flavorless, calorie-free dissolvable THC + CBD. From protein shakes to salad dressings, put Ripple in your water bottles, juices, soups, tacos, and more. With Ripple, there are no unpleasant oil slicks or unwelcome "grassy" flavors, just reliable, consistent, fast-acting effects.
QB6KovG5GG
LJ
Stillwater Ripple | 100 mg Rec
Fast acting and I can put in anything.
Similar Products