1
1
10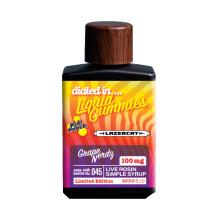 Dialed In Liquid Gummies | Grape Nerdz 100mg Rec
Pick-up Location
Note:
Price may vary at different stores
Description
Lazercat makes some of the best hash this state has to offer. These numbers are proof... 5.30% terps, 4.47% CBG, and 76.82% THC. That combo makes for a wild ride. This batch will help with anxiety and chill you out, a nice and stoney feeling is to be expected.
Suggested Use: If you haven't made any milkshakes with our Liquid Gummies yet, make sure to do so. Top it with some crushed frozen gummies... you'll thank us later!
All batches of Dialed In Liquid Gummies or THC syrup are made with solventless live rosin that is made using only ice, water, heat and pressure. Created using a special sous vide process to retain high amounts of terpenes, flavonoids and cannabinoids.
Recyclable package.
Scan the QR code on the packaging for more information.
INGREDIENTS: sugar, water, gum acacia, cannabis rosin extracted from ice water hash (THC). Made in a facility that uses tree nuts (coconut oil).
FLAVOR: Unflavored.
LINEAGE: Grape Pie x (Chem 4 x GSC).
STRAIN TYPE: Hybrid.
PREDOMINANT TERPENES: Limonene, Caryophyllene, Linalool, Humulene, Myrcene.
POTENCY: 82.41% cannabinoids and 5.30% terpenes. 76.82% THC, 4.47% CBG, 0.72% CBC 0.41% THCV.
DOSAGE: 100mg THC total. 10 capfuls x 10mg THC each.
XzvnePLDWn
This product is not rated yet. Be the first to review it.
Similar Products