1
USD
10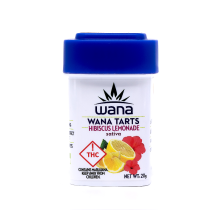 Wana Tarts | Hibiscus Lemonade 100mg Rec
Pick-up Location
Note:
Price may vary at different stores
Description
Wana tarts are the latest addition to Wana Brands' product line. With its floral tones, these chewable Hibiscus Lemonade tablets are sweet, citrusy and refreshing. Wana Tarts offer consumers another discreet way to microdose. Each unique flavor features a specific class or ratio of trim. In a process perfected by Wana Brands' culinary experts, the recipe is infused with a high-quality extract to ensure a consistent, potent and delicious experience. DIETARY RESTRICTIONS: naturally flavored, gluten free, vegan. STRAIN TYPE: Sativa. DOSAGE: 100mg THC total. 20 pieces x 5mg THC each.
74Z5fcZTR4
This product is not rated yet. Be the first to review it.
Similar Products