1
1
10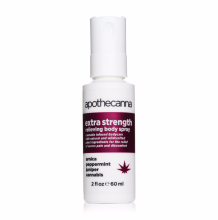 Apothecanna Extra Strength Spray | 2oz Rec
Pick-up Location
Note:
Price may vary at different stores
Description
Double strength, fast acting, pain relieving body spray with organic essential oils and plant extracts. All skin types. Ideal for before and after athletic activity. Perfect for use on sore muscles and swollen joints. Peppermint, juniper, arnica and cannabis provide fast acting relief from pain and inflammation. Fast acting, deeply penetrating relief.
47L7R4Eazv
Nora M.
Apothecanna Extra Strength Spray | 2oz Rec
I like their creams better but this will do as well. Great, great products.