1
USD
10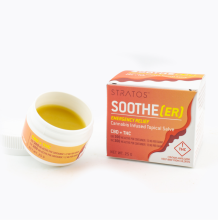 Stratos Soothe Salve | Emergency Relief 1:1 300mg Rec
Pick-up Location
Note:
Price may vary by store
Description
Stratos Soothe(ER) Emergency Relief 1:1 is formulated using pharmaceutical techniques to provide a homogeneous end product. It includes essential oils to compliment the properties of the cannabinoids.
INGREDIENTS: Arnica oil, black pepper essential oil, clove oil, helichrysum oil, lemon essential oil, peppermint oil, and wintergreen essential oil.
DIETARY RESTRICTIONS: Gluten and Paraben free.
DOSAGE: 300mg THC and 300mg CBD total. 25 1g doses x 12mg CBD and 12mg THC each.
q93mg6YdFg
Heather
Stratos Soothe Salve | Emergency Relief 1:1 300mg Rec
I have broke my back three times and nothing relieves the pain like this salve does. And it smells so good
Similar Products