1
USD
10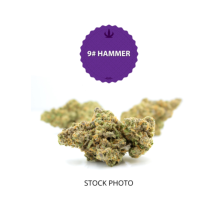 9# Hammer | Indica
Pick-up Location
Note:
Price may vary by store
Description
These dense buds are coated in resin, offering sweet grape and lime flavors. 9 Pound Hammer hosts a terpene profile abundant in myrcene, pinene, and caryophyllene. Reported effects said to be heavy and long-lasting, with consumers claiming this strain useful for pain and stress relief.
AAbzTWuimS
This product is not rated yet. Be the first to review it.
Similar Products