1
1
10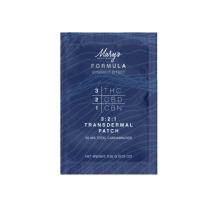 Mary's Medicinals THC:CBD:CBN Formula Patch | 3:2:1 30mg Rec
Pick-up Location
Note:
Price may vary at different stores
Description
Experience the power of the Ensemble Effect to harmonize your Endocannabinoid System with Mary's new 3:2:1 FORMULA patch.  This hand-selected cannabinoid and terpene ratio takes advantage of the accurate and discrete delivery method of our award-winning transdermal patch.  Adhere to a venous area of the skin for maximum wellness benefits lasting 8-12 hours.
INGREDIENTS: Acrylic, Glycol, Lecithin, Oleic Acid, Cannabis Extract, Eucalyptol and Terpenes Beta-Myrcene, Pinene, Linalool, DLimonene, Alpha- Humulene, Terpinolene.
HOW TO USE: The patch is most effective when applied to a venous part of the body, like the top of the foot or inner wrist. Cleanse and dry skin prior to application. Remove plastic liner and press patch firmly onto skin. Effects last up to 12 hours. Patch should be worn continuously.
ONSET: 15 – 30 minutes
DURATION: 8 – 12 hours
DOSAGE: 30mg THC, 20mg CBD, and 10mg CBN total.
D4pNJCrsYG
Characteristics
Manufacturer
Mary's Medicinals
Characteristics
Manufacturer
Mary's Medicinals
This product is not rated yet. Be the first to review it.
Similar Products