10.00
10.00
10.00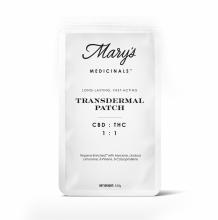 Mary's Medicinals THC:CBD Patch | 1:1 20mg Rec
Pick-up Location
Note:
Price may vary at different stores
Description
Mary's award-winning CBD:THC patches are born out of a commitment to accurate dosing and the application of advanced delivery methods. Offering a quick onset and unsurpassed duration, Mary's patches are 2×2 squares, easy to use, and adhere simply to any veinous part of the skin for discreet, all day (or night) relief.
mFAQSxPKiT
Characteristics
Manufacturer
Mary's Medicinals
Michelle
Mary's Medicinals THC:CBD Patch | 1:1 20mg Rec
Never was big on patches but needed something discreet and steady. I can;t run out for a smoke throughout the day. And I don't want to get too buzzed. This supplies a steady stream of thc and cbd.
Similar Products