1
1
10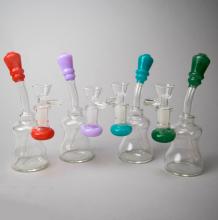 Max Quality Glass | Mini Bottle Banger Hanger Red
Pick-up Location
Note:
Price may vary at different stores
Description
Bent Neck Heavywall Mini Bottle Bubbler Banger Hanger. Pure Borosilicate Glass. 2 Slit Diffuser for Smooth Percolation. Thickness: 5mm. Pure Pink, Green, Red & Blue Cadmium Color Accents on Joint & Mouthpiece. Joint: 14mm Female. Includes: 14mm Male Quartz Banger Domeless Nail. Height: 6.5" inches. Length: 3.25" inches. Base Diameter: 2.15" inches.
GSumcQfurY
Characteristics
Manufacturer
Max Quality Glass
This product is not rated yet. Be the first to review it.
Similar Products