1
1
10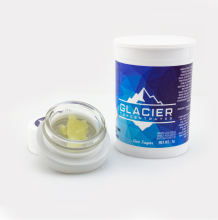 Glacier Concentrates Live Badder | Ultra Cookie Monster 1g Med
Pick-up Location
Note:
Price may vary at different stores
Description
Glacier Concentrates are among the fastest growing concentrates brands in the state. They have developed a trade secret procedure for making CRC concentrates – wax, shatter, badders, live sugars, diamonds, and isolate. Their process is unique, and results in a level of purity, flavor, and visual appeal that is both unmatched & stunning. Terpene profiles range between 4 and 14 percent. Glacier is vertically integrated so they grow and blast their own flower.
7dWTkWLzDm
Characteristics
Manufacturer
Glacier Concentrates
Lila
Glacier Concentrates Live Badder | Ultra Cookie Monster 1g Med
Glacier makes decent stuff.
Similar Products