1
1
10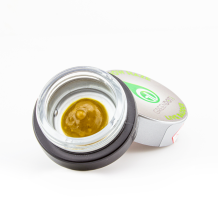 Green Dot Silver Label Live Badder | I-95 OG 4g Rec
Pick-up Location
Note:
Price may vary at different stores
Description
A lusciously smooth emulsified cannabis extract featuring uniform consistency and creamy mouth feel. Sourced using retired strains from the Black Label garden and with flower from top Colorado cultivators, the Green Dot Labs Silver Label line highlights crowd-pleasing extracts.
Green Dot Labs Silver Live Badder delivers intense terpene-packed flavor and a luxurious mouthfeel at an affordable price. Just like the Black Label Live Badder, the Silver Label Live Badder is emulsified after extraction to purge all residual solvents and achieve a silky, homogenous texture. Save money without compromising quality.
STRAIN TYPE: 50/50 hybrid.
Xzd4qSg2nA
Rachel T.
Green Dot Silver Label Live Badder | I-95 OG 4g Rec
Cheaper then Black Label but damn if it isn't the same high quality!
Similar Products