1
1
10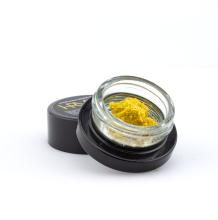 HRVST Live Badder | Chunky Monkey 1g Med
Pick-up Location
Note:
Price may vary at different stores
Description
The process begins by sourcing the highest quality Cannabis trim and flower from several of Colorado's best medical and recreational gardens. Then the hydrocarbon extraction process using solvents such as Butane, Propane, and Heptane separates cannabinoids, terpenes, and flavonoids from the plant material. The extract is then "purged" of the residual solvents, resulting in a clean, terpene-rich product.
Badders are produced from fresh frozen material and have a homogeneous, opaque consistency. Live badder provides a more consistent dab compared to sugars or diamonds but doesn't give you the option of choosing your own ratio of terpenes to cannabinoids.
STRAIN TYPE: Indica-dominant hybrid.
r7XBc8XsNN
This product is not rated yet. Be the first to review it.
Similar Products