1
1
10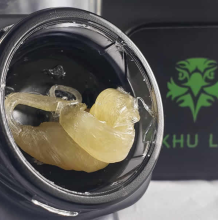 Nokhu Labs Live Rosin | Cookie Cake 1g Rec
Pick-up Location
Note:
Price may vary at different stores
Description
Nokhu Labs' flagship product – Full Spectrum Live Rosin - represents a beautifully concentrated representation of our soil grown Cannabis. Fresh frozen flower, ice water, heat & pressure, and nothing else. STRAIN TYPE: Indica-dominant hybrid.
PnWdMvNFmH
Wes
Nokhu Labs Live Rosin | Cookie Cake 1g Rec
Wonderful rosin that can lull you to sleep or just let you look into yourself!
Similar Products