1
1
10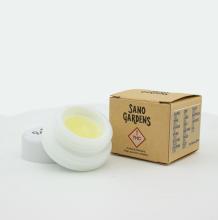 Sano Gardens Aqua Live Resin | Huckleberry 1g Rec
Pick-up Location
Note:
Price may vary at different stores
Description
Aqua is a live resin concentrate made from fresh frozen flowers. Sano Gardens takes an obsessive approach to sourcing material which is the basis of all good extracts and then uses a targeted extraction process which focuses on preserving terpenes. This concentrates cannabinoids and leaves behind undesirable pigments, lipids, minerals, and other compounds that lead to oxidation over time. The result is a concentrate with a higher purity and cleaner taste which maintains its integrity longer than traditional live resin products.
STRAIN TYPE: Sativa-dominant hybrid.
4xtt42S34x
Characteristics
Manufacturer
Sano Gardens
Characteristics
Manufacturer
Sano Gardens
This product is not rated yet. Be the first to review it.
Similar Products