1
1
10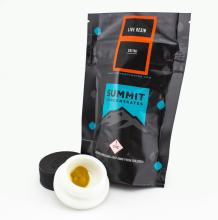 Summit Concentrates Live Resin | Red Headed Stranger 1g Rec
Pick-up Location
Note:
Price may vary at different stores
Description
Each strain is hand selected and nurtured from clone to finished product – Summit strives to produce the highest quality concentrates to deliver the perfect elevation. Summit Concentrates is dedicated to the art and science behind the cultivation of cannabis. Summit Live Concentrates are extracted from freshly frozen flower harvested at the peak of terpene and cannabinoid expression for each strain. The extraction process preserves these compounds, resulting in pure and powerful concentrates that give you a true-to-strain experience. The Live Concentrates come in a variety of consistencies including Live Diamonds, Live Sugar, Live Budder, and Live Sauce.
LINEAGE: Haze x William's Wonder.
STRAIN TYPE: Sativa.
FLAVOR: Spicy, herbal flavor profile with undertones of earth and sweet citrus.
zE5puYMGTW
Characteristics
Manufacturer
Summit Concentrates
Characteristics
Manufacturer
Summit Concentrates
This product is not rated yet. Be the first to review it.