1
1
10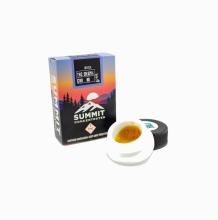 Summit Concentrates Sauce | Queen Mother Goji 1g Rec
Pick-up Location
Note:
Price may vary at different stores
Description
Summit Concentrates Queen Mother Goji. These large crystals grow when a mixture of Cannabinoids (mainly THCA) and terpenes/flavonoids naturally separates over time. THCA crystallizes in a very slow and laborious process and is suspended in the terpene/flavonoid-rich liquid, which is commonly known as "sauce".
Characteristics
Manufacturer
Summit Concentrates
This product is not rated yet. Be the first to review it.
Similar Products