1
1
10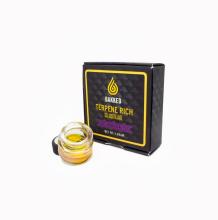 O.Pen Bakked Terpene Distillate | Indica 1g Med
Pick-up Location
Note:
Price may vary at different stores
Description
Terpene Rich Indica Distillate from Bakked for medicinal use. Cannaseurs, looking for a cannabis extract that delivers a full-bodied experience? Look no further. This Terpene-Rich Distillate offers the perfect blend of same-strain, same-batch cannabis terpenes for ultimate purity and taste. Grab your favorite dab tools and discover why so many people choose this cannabis extract. Features include: Up to 85% potency in each cannabis distillate. Maximum terpene reintroduction for optimal flavor. Same-strain, same-batch terpenes. Strain-specific, small batch distilled.
This product is not rated yet. Be the first to review it.
Similar Products