40.00
40.00
40.00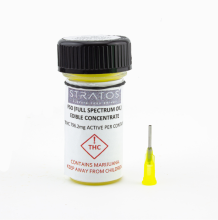 Stratos FSO Syringe | Indica 1g Med
Pick-up Location
Note:
Price may vary at different stores
Description
The FSO Syringe is designed for consumers looking for safe, potent edible oil in line with well documented cannabis protocols. This product is intended for edible consumption exclusively. By design, it contains fatty acids which should not be smoked. The Stratos syringe container is childproof. We use a CO2 extraction which produces a cleaner, safer oil, especially important for medically sensitive patients. This product contains oil made from flower heavy raw materials to capture more phytocannabinoids and periphery plant compounts than trim only extractions. Instructions for use: Dispense a rice size portion of oil. Consume by mouth with food. Syringe contains one gram of oil with approximately 750 mg of THC.
Z3FTCD2NpS
This product is not rated yet. Be the first to review it.
Similar Products