70.00
70.00
70.00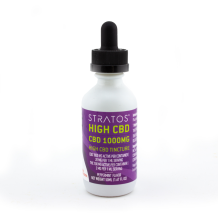 Stratos CBD Tincture | 10:1 100mg Rec
Pick-up Location
Note:
Price may vary at different stores
Description
Stratos High CBD Tincture is a 10:1 CBD tincture made with 1000mg whole plant, CO2 extracted CBD and 100mg hybrid THC. The base oil for this product is MCT oil. To create a homogeneous mix, Stratos uses a high tech combining method. This eliminates any 'hot spots' in the product to ensure consistent dosing every time. Each dropperful of tincture contains 20mg CBD // 2mg of THC
jL2guk5oAr
Lerner
Stratos CBD Tincture | 10:1 100mg Rec
The best tincture with lots of CBD and just a pinch of THC for good measure.
Similar Products