25.00
25.00
25.00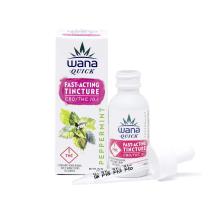 Wana Fast Acting Tincture | Peppermint 10:1 10mg Rec
Pick-up Location
Note:
Price may vary at different stores
Description
Created with groundbreaking nanoemulsion technology, Wana Quick Tincture is made from water-soluble nanoparticles that are smaller than human cells. As a result, they're absorbed instantly through your oral tissue and work within 5-15 minutes — far outpacing traditional tinctures!
This pleasing mint-flavored tincture delivers a 10:1 CBD/THC ratio for a more serene experience with little to no psychoactive effect.
DOSAGE: 100mg CBD and 10mg THC total.
pcmEJdsQTg
This product is not rated yet. Be the first to review it.
Similar Products