1
1
10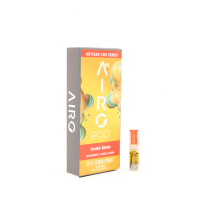 AiroPro Cartridge | Cosmic Karma 500mg Rec
Pick-up Location
Note:
Price may vary at different stores
Description
AiroPro's ceramic cartridges are pre-filled with high-potency pure distillate oil. Enter the fluid cosmos with Artisan CBD Series Cosmic Karma. With a 2:1 CBD:THC ratio, Cosmic Karma brings you a balanced aura of good vibrations radiating from the stars. As you inhale, feel in alignment with the megacosm as you taste sweet ripe raspberries and warm cozy vanilla creme. As you exhale, feel a blended experience of uplifted sedation and mellow elevation as the comforting aromas swirl the room. STRAIN: Hybrid. 2:1 CBD:THC. BATTERY TYPE: AiroPro cartridges use a proprietary AiroPro/IndigoPro pen. Durable, virtually-unbreakable magnesium alloy body and long-lasting 320mAh Li-ion battery. 8.5 W power output, 300mA (1.5W) charging current, Micro USB rechargeable.
qSXG7PZhNJ
This product is not rated yet. Be the first to review it.
Similar Products