1
1
10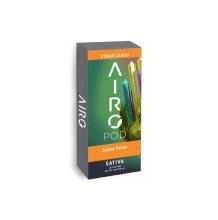 AiroPro Cartridge | Durban Poison 500mg Rec
Pick-up Location
Note:
Price may vary at different stores
Description
This pure sativa's uplifting high encourages productivity and sparks creativity, making it the perfect partner on a busy day. Enjoy the Alpha Pinene, Camphene, and Beta Pinene terpenes.
Strains Series offers high-potency, purified cannabis oil blended with 100% naturally sourced terpenes true to the cannabis plant. Unique terpene profiles give you a classic strain taste and feel.
AiroPro's cartridges use the best high-performance ceramic atomizer to provide consistent and unaltered experience from first draw to last. Airo Brands is driven to create an intuitive, virtually effortless, and cleverly designed vapor experience.
STRAIN: Sativa.
AIROPRO SERIES: Strain.
BATTERY TYPE: AiroPro cartridges use a proprietary AiroPro / IndigoPro pen. Durable, virtually-unbreakable magnesium alloy body and long-lasting 320mAh Li-ion battery. 8.5 W power output, 300mA (1.5W) charging current, Micro USB rechargeable.
Y456ZoMceE
Mo Cuss
AiroPro Cartridge | Durban Poison 500mg Rec
Similar Products